Nafplio Marathon 2020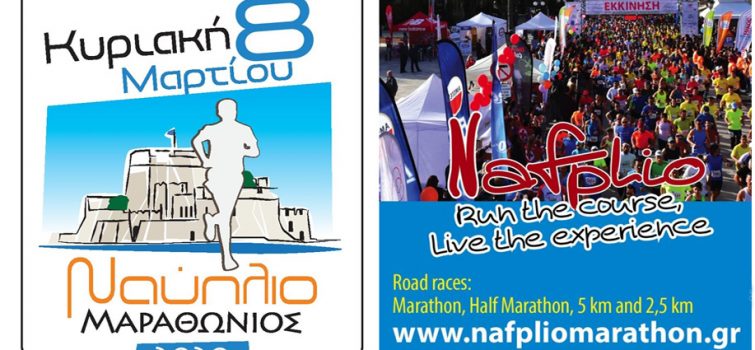 The Greece we want is the society we want, is the way we want our chlindren ot grow!!!
https://drive.google.com/file/d/1CqBqdvLJhtnUBPs0RbeokvXaOOmUW2CG/view?usp=sharing
Nafplio Marathon, the first marathon of spring which will take place in Sunday March 8 is dedicated to the International Women's Day. For one more year Nafplio Marathon offers a complete schedule of events  and offers for the participants that will visit the Majestic Nafplion!
You can register here:
https://www.nafpliomarathon.gr/registrations/types-of-registration/?lang=en
Discounts
KTEL S.A. Argolidas is the event's official mean of trasportation, offering a 50% discount for runners travelling to and from Nafplio. The discount is valid from Friday before the race to Monday right after the race.
In order to receive the discount, please provide to KTEL Argolida's ticket office the confirmation of your registration and your ID or Passport or alternatively purchase electronically your ticket through: https://eticket.ktelargolida.gr/en/ using your subscription code.
For more accommodation in the city of Nafplio and nearby, follow the link:
https://www.nafplio.gr/en/accommodationmenu.html
A pasta party could not be missed from Nafplio Marathon! Every year participants have the opportunity to gain energy and… carbohydrates at the Pasta Party that takes place in FOUGARO. the Pasta Party follows a musical event!
Pasta Party will take place on Saturday, eve of the race, 18:30 at FOYGARO.
General Discount in dinning 20% showing the "PARTICIPATE" card
More than 50% discount on all trade shops in Nafplio City and additional discount 5% on womens products.
The participating shops will have the Marathon Poster "Nafplio Marathon Sales 2020"
Music on the streets:
Saturday 7 March
18:00
Argous str & Asklipiou, Dj set
Argous & Trikoupi, Dj set
Amalias str, Live Music
Sidiras Merarchias str, Dj set
Syntagmatos square, participant's photo shooting, Dj set
BATALA
Sunday 8 March
08:30
Eleventh, Dj set
Οδός Ασκληπιού, Dj set FOUGARO
Κόμβος Αγίας Ελεούσας, Dj set
N. Kiou str, Dj set
BATALA
11:00
Filellinon square, 5 and 2,5 km start Dj set
08:00 – 15:00
For more information please visit: https://www.nafpliomarathon.gr/?lang=en
Run the course, live the experience in the 7th Nafplio Marathon!
You are all invited to become part of the big running fiesta that is called:
Nafplio Marathon!